Almost every aspect of our lives has dramatically changed over the past ten months or so. We have endured financial hardships, the loss of get-togethers with family and friends, and growing uncertainty in navigating our day-to-day lives. Through this all, however, we have seen tremendous acts of compassion and 'giving back' to our communities.
This is the time of year that most businesses have organized Christmas parties and other holiday celebrations. Sadly, these have had to be put on hold to keep everyone safe this year. That is when Stephen Pearce (an insurance broker here at SeaFirst Insurance) realized he could use this opportunity to do something good for his community.
Together with Pearce's family farm – Pendray Farms in the Saanich Peninsula – and SeaFirst Insurance, he was able to give back in a huge way. Pearce first rallied the family farm and was able to donate close to 450 lbs of grass-fed beef to the Mustard Seed Food Security Distribution Centre in Esquimalt. Upon learning of this, SeaFirst Insurance was quick to match this wonderful donation by purchasing 500 boxes of spaghetti noodles along with 500 cans of spaghetti sauce.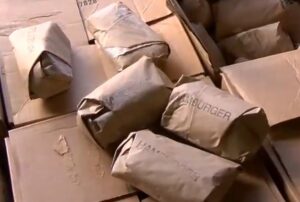 Q&A with Stephen Pearce:
Q – Between you and SeaFirst Insurance, nearly 2000 pounds (8,000 meals) have been contributed to families in need in Victoria this year – what inspired you to make this contribution?
A – "SeaFirst has always been so community-minded over the years with support for many events, and most community events did not happen this year such as Brentwood Days, Sidney Parade, Lobsterfest at Mary Winspear, Canstruction, and Colwood Fire Department open house and golf tournament to name a few. My family wanted to personally do something, and since I raise beef I wanted to donate to the food bank. I approached the ownership SeaFirst and they jumped on board right away to contribute to the donation by complimenting the give by adding Pasta and Sauce to the donation".
Q – Talk a bit about your farm and the quality of locally bred beef?
A – "We raise cows for family consumption, and I take pride in their quality of growth, production, happiness, health, and safety. They are grass-fed from crops grown on the farm and their presence is calming. They are an important part of our lifestyle, ecosystem and landscape of where we live".
Q – How important is it to come together as a community in 2020?
A – "SeaFirst has been an inspiration to staff and families during 2020 first and foremost with the support of the community and when the Pandemic hit we launched the Pay It Forward challenge by asking SeaFirst Staff to purchase gift certificates from local businesses and SeaFirst matched purchases up to $100. The initiative resulted in $16,200 in total gift certificate purchases. The reason behind this was to show support of our local businesses and let them know we care. A $25 gift certificate goes only so far but the show of support and caring went a long way to motivate and build resiliency amongst our business community. It is all about stepping up when we can to lend a helping hand and setting a good example as a local business".
Q – How can others make a difference?
A – "There are so many different challenges and successes right now as the pandemic has created a ripple through the businesses of our communities. One business in the same category is suffering and another is flourishing. Building awareness and supporting local businesses with a simple social media share or by stopping by local small business is all helpful".
Q – What does it mean to you to have Seafirst Insurance match your donation?
A – "I felt respected as a human being and very happy to say I work with an amazing company that is willing to step up early and set a great example for the community".
Q – Talk a bit about the Mustard Seed – what are some of the challenges they are facing this year?
A – "The Mustard Seed is far-reaching and supports many smaller community organizations through their food rescue program. Their success spills over and results in positive outcomes for many organizations. The Mustard Seed has added pressures as the growing need for support increases each year and the pandemic has multiplied these pressures to deliver food to the community safely and while increasing volumes needed. All 'not for profit' charity organizations are struggling, and it is more than just food; monetary donations and volunteering are vital for any 'not-for-profit', especially now".
SeaFirst's Goal:
Since all company holiday celebrations will be canceled due to the pandemic, we at SeaFirst Insurance want to turn our donations into something much bigger: This year, we are challenging other local businesses to donate their holiday party funds to a worthy cause – let's keep the momentum going!
For the full story, click here.