As we look back on 2020, I think we can all agree that it has been one of many challenges, both economically and personally. Holiday celebrations with business colleagues have, for the most part, been cancelled in order to protect the health of us all. Months of preparations for such gatherings have left many disappointed but, here at SeaFirst, we wanted to turn that disappointment into something positive. We have decided to reallocate funds set aside for our office celebrations to various non-profit organizations in the area that do so much every day to help those in need.
We wanted to show our appreciation in as many ways as possible by donating to as many organizations as we could. SeaFirst would like to share with you the contributions that we were able to make and hopefully inspire other companies to do the same. Our Giving Back plan began with a donation to the local Food Bank of what amounted to more than 8,000 meals for those in need. But of course, we realized that we had the ability to do much more than this. The result is that we were able to spread the funds set aside for our office celebrations to the following non-profit organizations:
Cool Aid Society – $10,000
The Cool Aid Society works tirelessly to provide opportunities for those experiencing homelessness as well as those living in poverty. They also support those in need of health and dental care along with support and emergency shelters.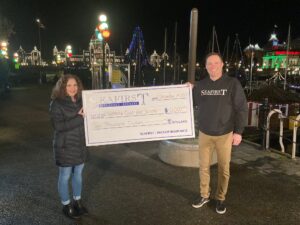 Photo: Lori Angelini, Manager of Philanthropy at Victoria Cool Aid Society & Steve Pearce, SeaFirst Insurance
Connections Place – $2,500
This organization is dedicated to those experiencing mental health challenges to get their lives back on track by helping them realize and utilize their skills and talents. Connections Place supports those with any form of mental illness including psychosis, PTSD, bipolar disorder, depression, OCD, and schizophrenia.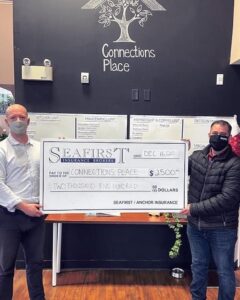 Photo – Chris Forester, Executive Director at Connections Place & Dan Olive, SeaFirst Insurance
Help Fill A Dream – $1,500
Help Fill A Dream has been helping families from Vancouver Island to the Gulf Islands whose children are facing a life-threatening condition. Steve Pearce, a SeaFirst Insurance Broker, volunteers on the board and also volunteers his time in various events throughout the year.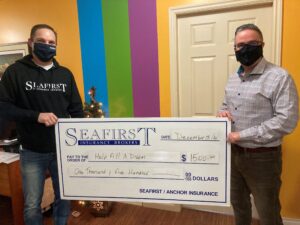 Photo – Steve Pearce, SeaFirst Insurance & Craig Smith, The Executive Director at Help Fill a Dream
Women In Need (WIN) – $2,000
This non-profit organization is a community cooperative that helps support and empower women in Victoria. One of their goals is to create opportunities for women to become self-sufficient. They offer various programs designed to help women along every step of their journey. Their programs welcome all those who identify as women including trans, non-binary and Two-Spirit people in line with the intention of their WIN's programs.
We realize that there are so many other worthy causes and opportunities to give-back to within our communities. By sharing our 'Holiday Giving' experience, we are of the hope that this can be a starting point for other companies to explore how they too can give back. So even though we are all still facing many challenges till we can bend the curve of Covid-19 back down, we need to remember to be grateful for the things we do have. Every contribution we make, big or small, whether it's a financial donation or giving of our time as a volunteer, makes a tremendous difference in the lives of people we share our community with. Giving back to the places that we live and do business in is one way of saying 'Thank You' to the many organizations that selflessly provide hope for others every day. Together we can turn some of the disappointments and challenges that we have faced into the promise of a brighter future for those who are struggling in other ways.