It has been a year since Covid-19 has required us to make changes to both our personal and professional lives. Many of us have been fortunate enough to be able to work from home allowing us to maintain financial stability. However, with the surge in positive cases in Canada, schools have largely been forced to provide classes online, which means that those with pre-school and school-aged children have yet another challenge to overcome.  At SeaFirst, our priority is to keep staff and customers safe while continuing to provide the same professional and personal service that our clients have come to expect.
To address these challenges, we began to brainstorm ways to maintain social interaction among staff to keep our energy and innovative ideas flowing while we are physically separated. The staff at SeaFirst are dedicated and determined to connect with one another which means that things such as staff meetings and group collaboration are now conducted virtually. Of course, there are some minor challenges with a child popping up on someone's screen occasionally and other inevitable home interruptions, but we have forged ahead and took it all in stride.
Working from Home Comes with its Own Challenges:
The first several months of our new normal were very successful and all staff must be commended for their part in making this happen. As time went on, however, signs of stress began to surface. Balancing home and work were taking its toll and we found that the stress of not being able to get together for our normal staff 'mixers' were having negative effects. It was once again brainstorming time. How do we continue to fuel the energy from the past without physically connecting with one another? There were many creative ideas put forth, and finally, we had a working plan to begin a new way of holding staff events as a group.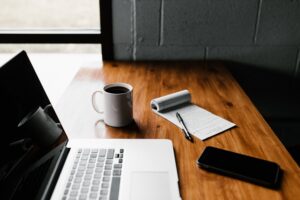 Staff Events Currently Offered at SeaFirst Insurance:
One of our current events that helps relieve stress and rejuvenate us is a series of virtual yoga classes. It has been well received and is great in maintaining a calm balance in both our bodies and our mindset. We also wanted to experience getting together to just have some much-needed fun. This was accomplished by holding regular companywide game-nights. We then all agreed that so many of us were spending a lot more time in our kitchens which led to holding virtual cooking classes.
The ideas and suggestions are still flowing, and it is a stark reminder of how important it is to stay connected while we continue to stay apart. Health and safety will always be the most important factor in these challenging times, but we must find new ways of staying together and keeping in touch with one another. Checking in regularly with family, friends, and neighbours is a vital part of showing that we care and creating a sense of normalcy. We are fortunate to have the technology with which we can accomplish this but let's not forget those who do not have access to a computer or other device. A simple phone call can mean so much to those experiencing isolation in one way or another.