About Ali Flynn:
Ali was interested in pursuing a career in the insurance industry and took her first step by applying for the position as a teller at her local Credit Union. Although they were not hiring at that time, they suggested she take the insurance course before reapplying. This proved to be the right first step and she was soon hired by the Credit Union.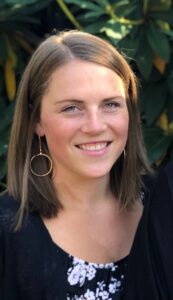 We asked Ali to tell us about her transition to the insurance industry and its effect on her professional and personal life. Here is what she had to say:
Q. What brought you to SeaFirst?
A. When my former trainer and good friend left to take another position, she recommended me to a former colleague who was looking to fill a position at SeaFirst. Then as she puts it, "The rest is history".
Q. What do you like best about being a broker? What brings you the highest level of satisfaction?
A. I am enjoying learning more about the different insurance companies that are available to local brokers, and companies that I was previously unfamiliar with. Placing a good risk with a good insurance company is a good feeling for all parties involved.
Q. What are some of your hobbies and/or interests?
A.  I love keeping up with my 2 1/2-year-old on new adventures and as she learns new things. I am also lucky enough to spend a good chunk of my spare time at our rec property on Lake Cowichan.
Q. What are the top three personal lines questions you get asked by clients and what are your answers to those questions?
1. Why does my home insurance rate increase every year?
Rates typically increase every year versus decreasing. The main reason is usually due to the re-build value of your home increasing yearly due to inflation. If your home were to be involved in a total loss, it would cost more to build this year compared to last year due to construction costs steadily rising. Unfortunately, you are more likely to see your home insurance premium go up rather than go down.
2. The assessed value for my home is $125,000 but you are insuring it for $500,000 – why is that?
The assessed value for your home is the depreciated value for the structure only. It is the current market value for your home in its current state. We are not insuring what you would sell your home for, excluding the land. We are insuring the cost to rebuild your home from the ground up based on current building costs, as well as the cost to remove the debris leftover from the previous home. There is no comparison between our insurance replacement value and the assessed value.
3. I need to purchase a tenant's insurance policy; how much content coverage do I need?
There is no black and white answer for that. It is individually based on your needs, and there isn't an average limit. We do have a worksheet that we can provide our clients to get a rough idea of what limit they need, but that is never an answer I can provide. No two people have the same amount of personal property. Some people buy all their home furnishings from Ikea, and some buy theirs from specialty boutiques. Some people buy their workout gear from Lululemon, and some buy theirs from Costco. You are the best person to know all of the belongings you have in your home and what it would cost to replace if everything was lost.
Q. What are your particular areas of expertise?
A. I have 10 years of experience in personal lines with specializations in farms, high-value homes, and hard to place home risks.
Q. What do you enjoy most about this type of insurance?
A. I enjoy farm insurance in particular as I have the most experience with them. They are often very involved and complex. I find it extremely satisfying to be able to ensure a variety of risks are insured, be it the various outbuildings, farm equipment, hay, and even farm animals if the client wishes.
Ali looks forward to helping you understand all your insurance needs. You can find her at SeaFirst's Brentwood Bay location (7178 West Saanich Road, Brentwood Bay, BC, V8M 1R3). Her contact information is as follows:
Contact Information:
Email: aflynn@seafirstinsurance.com
Brentwood Bay Office: 250-652-1141
Direct: 250-900-1795