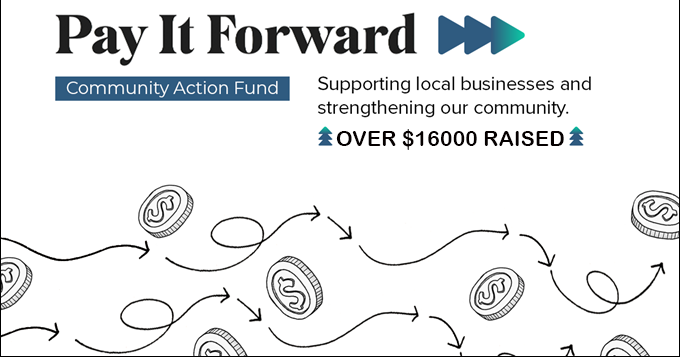 As we enter May, the continuing COVID-19 Pandemic has put many of our community members and local businesses in an uncertain situation. At Seafirst Insurance we believe that if we assist our local businesses, clients, and friends we can emerge from this pandemic with the least amount of heartbreak and as a more united community. Therefore, in March, we created "The SeaFirst Pay It Forward Campaign". We are proud to announce through the "Pay It Forward" campaign that our staff and company-matched purchases have combined to over $16,000 spent supporting local businesses!
For those unfamiliar with this campaign, here is how it works: Employees can go out and buy up to $100 of services or gift cards from a local business. We encourage staff to use their imagination!  Once staff have made their "Pay It Forward" purchase, SeaFirst will give a matching donation for staff to make an additional purchase from a second business. Our Commercial Producer Steve Pearce and his Think Local First team have also launched the Support Local YYJ website. This website gives you the opportunity to purchase gift cards for many of the local businesses in Victoria.
We also would like to encourage other businesses to join us on our "Pay it Forward" journey with their staff. We are in this together, get creative, and support our fellow local businesses!  We have listed the businesses we have supported so far below, and we plan for this list to continue to grow.
Supported Businesses:
Charitable Organizations:
Cowichan Valley Basket Society
Rainbow Kitchen Donation
Saanich Peninsula Lions Food Bank
Sun Peaks Community Fund
The Dahlia Society/Mustard Seed
Victoria Foundation
Clothing & Accessories:
Baggins Shoes
Front Runners
Outlooks
Something More Clothing
The Cobbler
Whistle and Flute
Food & Drink:
Bard & Banker
Berryman Brothers Butcheries
Bin 4
Brentwood Village Empourium
Brewskys Taphouse
Bubby Rose's Bakery and Café
Bistro Suisse
Café Beauregard
Country Bee Honey
Dutch Bakery
Farmers Daughter
Fernwood Coffee
Fox Glove Farms
Fresh Cup Roastery Café
Hecklers Bar & Grill
House of Boatang
Il Terrazo
Jack's Place
Japanese Village
Merridale Cidery
Moon Under Water Brew Pub
Romeos Hillside
Seaside Restaurant
Symphony Vineyards
The Good Food Box Victoria
Twist of Fate Victoria
Village Pizza
Zambri's Restaurant
Health & Beauty:
Brentwood Barber Shop
Cordova Hair and Barbershop
Erin Louise Hair (at Victoria Rose Cosmetics/Salon)
Glo Hair and Body
Heath Essentials
Kashmir Hair Salon
Miss Bliss Boutique – Sidney
Nezza Naturals
Paul's Hair
R Place Hair Design
Saanichton Barber Shop
Salt Spring Soapworks
Simple Remedies
Station 105 Collective Hair Salon
Kids:
Beacon Hill Children's Farm
Buddies Toys
Christa's Daycare
Tumblebums Playcenter
Specialty & Other
Atlas Video
Fan Tan Home & Style
Freefall Sun Peaks
Glen Lake Auto
Max Furniture
McTavish Academy of Art
Nirvana Pet Resort
Oak Bay Flowers
Prairie Inn Saanichton
Poppies Flowers
Robinson's Sporting Goods
Sun Peaks Independent News
Tally-Ho Carriage Tours
Tanners Books