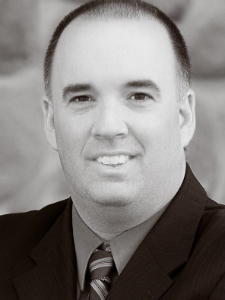 New to the SeaFirst Insurance Brokers blog, we thought we'd spend a little time introducing you to the hard-working insurance brokers we have serving our seven locations in Greater Victoria and the Islands.
Starting off our Meet the Staff of SeaFirst series is Shawn Fehr, a Commercial Insurance Broker currently at our Westshore branch, who has been with SeaFirst for the last five years. He may have only been with us for five years, but Shawn has been in the industry for much longer than that.
Twenty-six years ago, Shawn traded in a future career as a school teacher after having gained a few years of experience working for BCAA while in university.
"It happened by accident," Shawn says in response to how he became an Insurance Broker. "I was working part time at BCAA while I completed my university degree. When I finished my degree, I had to wait another year to get into the education program, so I spent that time learning more about insurance. By the time the university program became available, I found that I was more interested in insurance than teaching."
To this day, Shawn says becoming an Insurance Broker was the "best decision" he ever made.
"I enjoy working with people and problem solving. Every client presents a different challenge," he says of his favourite part about the job.
Over the course of his career, Shawn has become an expert in all levels of insurance, including home, auto, and travel insurance, yet these days he spends most of his time handling commercial accounts. His best, most memorable days being an Insurance Broker—of which he says there are many—have been working with the close team at SeaFirst Insurance.
"I have had numerous memorable days in the time I have had in the industry, but I must say that my time at SeaFirst has made up most of the best days of my career," he says.
So, what's the best piece of advice Shawn gives to his customers, both residential and commercial? Simply this: earthquake insurance is worth it.
"Many people say that it is too expensive, but when the big one hits, it will be worth it to have coverage on your home or business to ensure protection for what is likely the most valuable asset that you own," he says.
On top of providing his advice, Shawn is also in the business of answering people's toughest questions when it comes to the sometimes-complicated language of insurance. The top 3 questions being:
Q: Is earthquake insurance even worth it?
A: "Yes! It's a small added expense to ensure you're covered should a larger than life earthquake strike Vancouver Island."
Q: Why is your premium lower than my current policy?
A: "Because of SeaFirst's wide-reaching resources, and because of the fact that our experienced team of brokers ask you the right questions to determine what your specialized needs are. We make sure you're not paying for coverage you don't need."
Q: Do you work out?
A: "Clearly, thank you for noticing!"
Looking for more information regarding commercial insurance options? Check out our general business insurance page for a quick overview. Or, if you have a specific business you have questions about, you might be surprised to know there are separate packages specifically designed for:
During his days off, Shawn is always spending time with my two daughters, either coaching basketball for his younger daughter's team, or participating in musical theatre with his older daughter. "My wife and I also enjoy travelling, especially by cruise ship," he says.
To meet with Shawn about your commercial insurance needs, you can find him at the Seafirst Westshore location at 115-2244 Sooke Road in Victoria, BC. The office is open Monday to Friday from 8:30am – 5:00pm and on Saturdays from 9:00am – 3:00pm.