FOR IMMEDIATE RELEASE
SeaFirst Insurance Brokers gives back to the Community.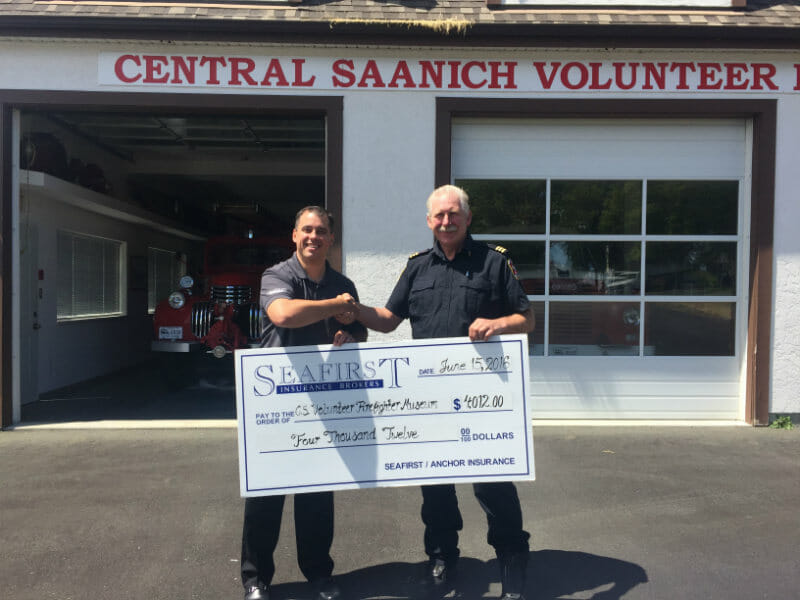 Once again, the SeaFirst Insurance team was out in full force at the Brentwood Bay Festival on June 4th.  Each year, hot dogs are sold by donation to support the Central Saanich Volunteer Firefighters Museum.  This year the donations totaled $2006, and the amount was matched by SeaFirst: enclosed is a photo of Dan Olive of SeaFirst presenting the $4012 cheque to Forrest Owens of the Central Saanich Firefighters..
Although SeaFirst also picks up the costs of all supplies, Breadstuffs Bakery supplies the (delicious) hot dog buns at a discounted cost in order to support the firefighters.  The hot dogs were sourced locally from Berryman Farms.
For further information, please contact Susan Bigelow 250-882-8952.
—
SeaFirst Insurance is a locally owned and operated full service Insurance Agency with branches in Sidney, Saanichton, Brentwood Bay, Oak Bay, Westshore, and Salt Spring Island as well as service on Pender Island